Are you looking for an improved seaside experience? Look no further! Custom-designed automatic gates for beach access are the perfect solution. With features such as motion sensors, remote operation, and low-maintenance construction, these beach access gates make it easier than ever to enjoy a safe, secure, and comfortable visit to the beach. We'll take a look at some of the most innovative features of these gates, and how they can improve your beach access experience.
The Features of Automatic Gates for Beach Access
Having an automatic gate for beach access is essential for keeping beaches safe and secure while providing convenient access. With the right automated gate, beachgoers can enter and exit quickly and easily, all while maintaining a secure environment.
At Quality Gates and Openers, we offer many innovative features that make our custom-designed beach access gates the perfect choice for any property. These features include:
Card access – This feature allows users to open gates with either a swipe card or key fob for easy, secure entry and exit.
Radio-frequency identification (RFID) – An RFID reader allows authorized personnel to open the gate using a card or tag from a predetermined distance.
Telephone entry systems – This feature provides secure communication between the guard station and the entrance, allowing guards to control who enters the property.
Video surveillance – Our custom-designed beach access gates have video cameras to monitor activity in and around the gate area.
Lighting – Automated gates for beach access can be outfitted with bright lighting fixtures, both inside and outside of the gate area, to provide visibility at night.
These features, along with our other security products and services, ensure that beachgoers have a safe and secure experience when entering or exiting their beach access gates.
How These Features Benefit Users
The features of beach access gates can provide great benefits to users looking for a more secure, convenient, and enjoyable seaside experience. Automated gates provide greater security and privacy than traditional beach access methods, as they are more difficult to access without an authorized key. Additionally, beach access gates can be programmed with various custom settings for different levels of access. For example, certain individuals or groups may be allowed access to only certain areas within the beach, while the rest are restricted from entering.
Another particularly beneficial feature due to their ability to provide increased safety and convenience is that they provide additional security against intruders by automatically locking when activated, as well as notifying nearby authorities of any attempts at unauthorized access. They also make it easier for those with disabilities or mobility issues to access the beach, as they are designed with wheelchair-friendly features.
Finally, these automated gates provide improved convenience for regular beach-goers. With the addition of automated beach access gates, visitors can gain quick and easy access to their desired beach area without needing to carry around a key. This means less time wasted waiting in line and more time enjoying the beautiful beaches along the Emerald Coast.
How Does Custom Design Improve These Features
Custom design beach access gates are designed to be tailored to the individual needs of a seaside location, allowing for automated gate systems that are much more secure and effective than traditional beach access gates. Automated gates can be designed with features such as integrated locking systems, surveillance cameras, and even biometric authentication, all of which can help ensure that only authorized persons gain access to the beach.
With custom design, it's also possible to create gates that fit seamlessly into the beach environment, providing a streamlined look that is both attractive and highly secure. Additionally, custom design can also help create a more convenient user experience. For example, an automated gate can be designed to open and close automatically, allowing visitors to quickly enter and exit the beach without having to worry about manual locks or security codes. Custom design also offers the potential for unique and innovative features that can be tailored to specific beach locations, making it possible to create an even more secure and enjoyable beach experience.
At Quality Gates & Openers, we specialize in custom design beach access gates and can help create a tailored solution that fits your specific needs. We can fabricate, install and service automated beach access gates in the Florida Panhandle, providing the perfect combination of security and convenience. With custom design, you can create a gate that is tailored specifically to the individual requirements of your beach, ensuring maximum security and a truly improved seaside experience.
How the Gates Improve Seaside Experience
Beach access gates offer an improved seaside experience to residents and visitors alike. Custom design gates provide a secure and convenient way to enjoy the many beaches in the area. These gates help to keep the beaches safe and secure, while also providing easy access for those wishing to spend time in this beautiful part of the country. Additionally, the added features of these custom-designed gates can make the experience even better. For instance, they may include adjustable opening speed, which ensures that the gate opens quickly and safely when a beachgoer approaches. As well, they may include remote access capabilities so beachgoers can open the gate from a distance. And, finally, some gates are equipped with motion-sensing technology, which can detect the presence of beachgoers and open the gate automatically.
With Quality Gates, you'll be able to find the perfect beach access gate to fit your lifestyle and provide a secure, enjoyable experience every time you visit the beach. They specialize in custom design beach access gates specifically tailored to the Florida Panhandle's beachfront requirements. In addition to offering adjustable opening speeds and remote access capabilities, some beach access gates come equipped with advanced security systems such as keypads, electronic locks, and video cameras. This helps ensure that beachgoers have complete peace of mind while using the beach access gate.
Learn More by Contacting Quality Gates & Openers
Contact Quality Gates & Openers for "The Quality Difference".  You can call them at 850-271-3617 or visit www.qualitygatesandopeners.com to get a free quote and find out more about how they can provide you with a custom-designed beach access gate.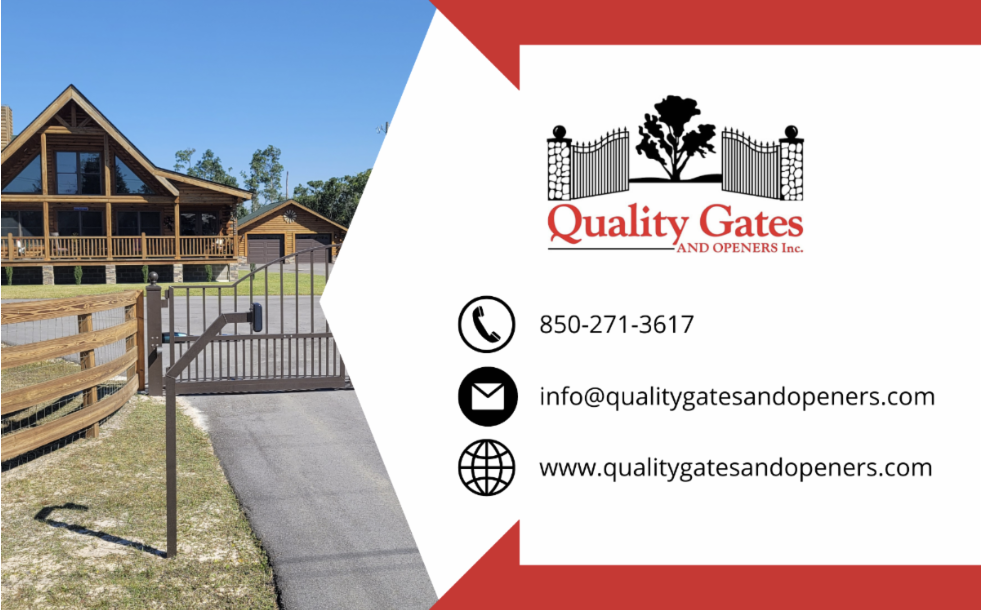 ---