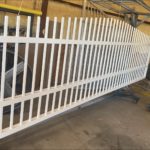 At Quality Gates, we powder coat more than just gates! As of 2021, we're proud to announce we've launched our premier powder coating service at our shop in Panama City, Fl. We are open for business and looking for medium to large powder coating projects in the Panama City area.
This exciting development has been a long time coming for our company. For those of you who don't know, Quality Gates began as just two guys in a pickup truck back in 2007 and has grown exponentially over the years. We are so grateful for all our wonderful clients!
Our Powder Coating Team at Quality Gates
Our brand new powder coating department is led by Mr. Chuck Wyzard, our Powder Coating Manager, and our on-site powder coater, Brandon Geldert. In addition to Brandon, we also have several other team members cross-trained on powder coating to help out where needed. Michael Johnson, Quality Gates veteran (and US veteran!) is among the powder coaters we have on our staff and we are actively working to build our internal powder coating team!
About Our Powder Shop in Panama City
We stock three colors in our Panama City powder coating shop–white, black, and oil-rubbed bronze but we also provide color-matching and can obtain custom colors, from something muted and conservative like grey or off-white to bright oranges, purples, greens… you name it! We can powder anything from pizza racks to large industrial parts.
How to Request a Quote
Reach out! Give our office a call at 850 271-3617 or visit our website to request a quote today! If you're already one of our wonderful customers, please consider leaving us an online review about your experience with us!